2023 marks the 100th anniversary of Disney. The studio's releases this year have highlighted the company's rich history, most significantly with an original idea in Pixar's Elemental, an adaptation of a Disneyland ride with Haunted Mansion, and a live-action remake of the movie that kicked off their animation Renaissance, The Little Mermaid. Yet the studio has decided to close out its celebration year appropriately with the film that kicked off the studio's legacy: an animated film from the studio Walt Disney built.
That film is Wish, a movie centered on the shooting star that has been present in many Disney animated films. Guiding this film are producers Peter Del Vecho and Juan Pablo Reyes Lancaster-Jones. Del Vecho won an Academy Award for producing Frozen (which was co-directed by Wish's co-director Chris Buck) and has produced other Disney animated classics like The Princess and the Frog, Winnie the Pooh, and Raya and the Last Dragon. Meanwhile, Juan Pablo Reyes Lancaster-Jones has been working in development on Disney animated films, starting with Frozen II, which led to Raya and the Last Dragon, Encanto, and most recently, Strange Worlds. Now he gets his first major producing credit with Wish.
Certainly, there must have been a lot of pressure and trepidation to get the producer job for the studio's 100th-anniversary film. "We both ran towards the challenge," said Del Vecho. "Everyone at the studio wanted to be part of this film because we all are Disney fans ourselves, and because of that, there was so much fun and joy because this was the 100th-anniversary film."
Both Peter Del Vecho and Juan Pablo Reyes Lancaster-Jones sat down with MovieWeb to talk about Wish.
Wish Is an Original Fairy Tale
Wish
Release Date

November 22, 2023

Director

Chris Buck, Fawn Veerasunthorn

Cast

Alan Tudyk, Ariana DeBose, Chris Pine

Main Genre

Animation
Anniversaries are difficult; they need to be marked by something special. Disney has a rich history of adapting classic fairy tales, from Snow White to Beauty and the Beast to Tangled. They have also adapted classic literature with The Hunchback of Notre Dame and Tarzan, and even a Marvel Comic with Big Hero 6. For the film released to celebrate the 100th anniversary, what kind of story would they adapt? Instead, they went another route. "It was important for us to have it be an original fairy tale," said Del Vecho.
"It's our first original fairy tale. All of our other fairy tales were inspired by some known classic," added Reyes Lancaster-Jones. Notably, he does say fairy tales, as films like Lilo and Stitch, Moana, and Encanto are original ideas as well. Del Vecho was honest about tackling the animated film that would be released to mark the 100th anniversary, as clearly, expectations would be high:
"This particular moment in time we took very seriously, and added a lot of pressure at the beginning that slowly changed to excitement and joy because we are all Disney fans here. To be able to craft a story that stands on its own as an original story with original songs and characters, but also imbue it with all the things we love about the Disney movies of the past and the emotions — that, we felt, was really a fun challenge."
This also creates an interesting dilemma for marketing the movie. Should Wish play up the anniversary nature of the film and spotlight the long history of Disney animation, or should it focus more on the film itself and let it speak for itself? "We want people to know it's an original story and that they know they are in for a terrific ride but also want them to know that it will feel like those movies that they've gone to the theater and enjoyed." Del Vecho added. "If this is your first Disney movie, this is going to stand on its own."
Return of the Classic Disney Villain
Disney has some of the most iconic villains in cinema history. Maleficent, Cruella De Ville, Jafar, Captain Hook, and Ursula are just a few of the names audiences have come to know, fear, and embrace. Yet the last notable straight-up Disney villain was Mother Gothel in Tangled, released 13 years ago. King Candy in Wreck-it-Ralph was a villain but also the beginning of a "twist" villain when it was revealed he was, in fact, Turbo. Then, starting with Prince Han in Frozen, Disney's animated films started to skew away from the traditional villain.
This is an element of Disney films that many fans have missed, and Wish marks a return to that formula with the inclusion of King Magnifico, voiced by Chris Pine. The film only takes a few minutes to pull the rug out that King Magnifico is not a good guy and is, in fact, a villain. Magnifico is certainly one of the most outwardly evil villains Disney has done in a while. "We were very intentional in having a Disney villain in this movie because we were all craving it as Disney fans." said Reyes Lancaster-Jones." He continued:
At the same time, in today's audience, they want that big villain but want to know where they are coming from. The story itself guided that because we had the chance to have a very charismatic person you are willing to give your wish to, but at the same time, he shows his true colors because someone is challenging him. And we see an evolution of the character as well.
Disney Easter Eggs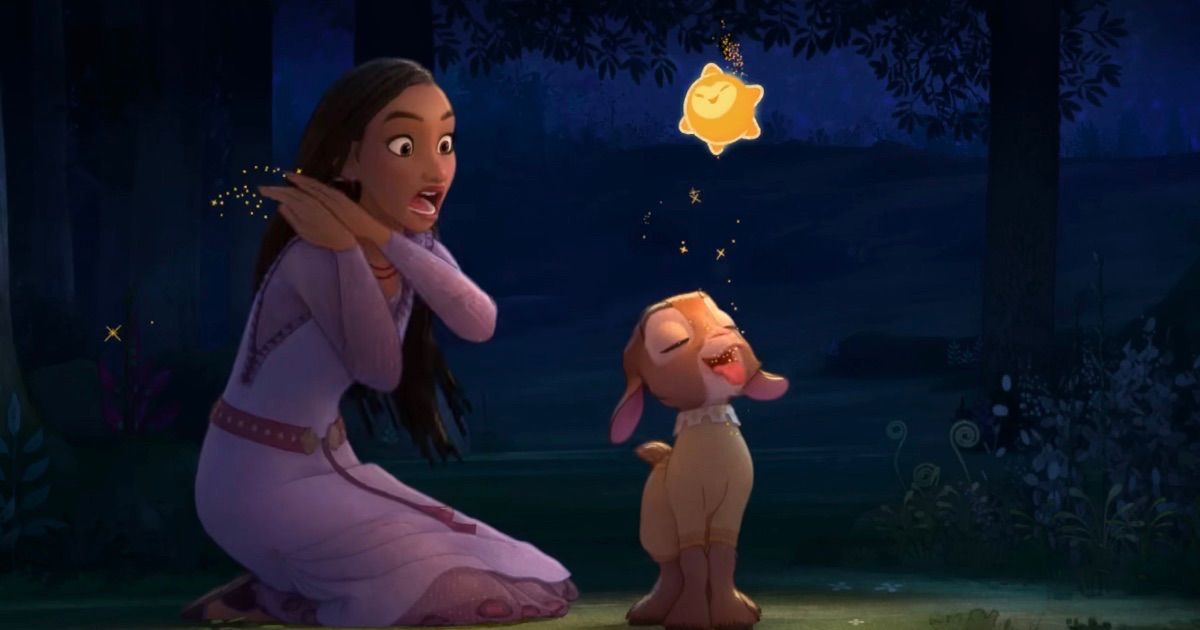 Wish is filled with exciting Easter eggs. While there are some obvious ones from Disney's history of animated films, including Peter Pan and Snow White and the Seven Dwarves, they extended far beyond that and even touch other major corners of the Disney franchise, from Mary Poppins to even the famous "you're watching Disney Channel" half mouse ears. "Everything you see in the movie that feels very Disney was done in an organic way. We were trying to convey the emotions of what Disney makes you feel. We have the wishing star, and we went from there." said Reyes Lancaster-Jones.
Related: Who Is the Star of Disney's Upcoming Movie, and How Has She Proved She's Perfect for the Role?
"We are all Disney fans, and we are aware of that, but we only placed [references] in there if it made sense. One of my favorite ones is Star having the Mickey mask and there are plenty of those that people will find. Some more direct, others more indirect," he added. Keep an eye out for plenty of Disney references while you are watching.
The Future of Disney Animation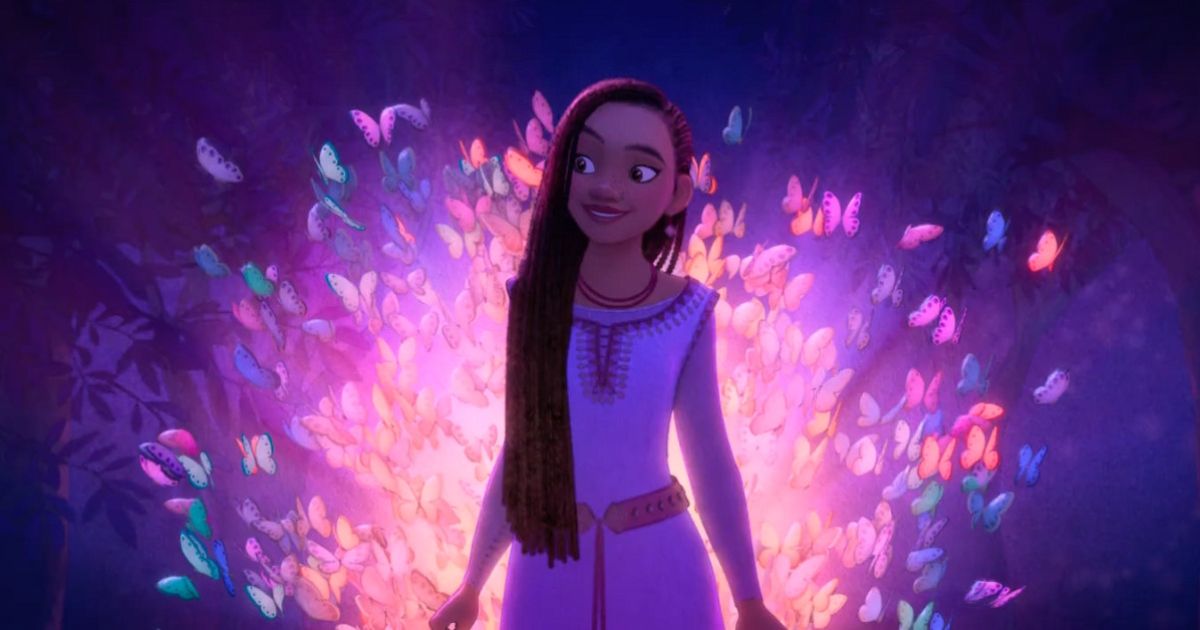 Instead of asking someone about their favorite scary movie, a much more friendly question is to ask someone about their favorite Disney movie. That answer is a little harder to answer for someone who has worked on so many films as Del Vecho has. "Currently, it's Wish, but I've been very fortunate to have worked here long enough to have many characters that are real to me now."
Reyes Lancaster-Jones did have an answer: a Disney classic that was also a major influence on the movie. "I often like to say Sleeping Beauty, because it is one of the ones I grew up watching. It was also a huge influence on Wish. Mike Giaimo [art director] loves that movie and put a lot of the aesthetic into this movie, including the CinemaScope of Sleeping Beauty, which makes this movie an event to be watched on the big screen."
Related: Disney's Wish: Why You Should Be Excited for This Upcoming Film
As Wish concludes Disney's 100-year celebration, it is time to look forward to the future. Currently, Disney has not announced what their next animated film is going to be or when it will be released. After so long, what does the future of Disney animation look like? "I think Disney at its very core is about great storytelling and making timely and timeless stories. So as long as we continue to focus on stories that resonate with audiences, we are in a good place," said Reyes Lancaster-Jones.
He added one final note to end on. "At the same time, it was Walt Disney himself that said keep moving forward, so bringing that idea to mind and expanding the artistry in what we can do through art and technology, I think it is going to be very exciting."
Here's to another 100 years of Disney.
Wish opens in theaters on November 22, 2023. You can watch the trailer below: