See below for a press release from State Senator-elect Suhas Subramanyam on his campaign for the VA10 Democratic nomination. Subramanyan joins Del. Dan Helmer, former VA House of Delegates Speaker Eileen Filler-Corn, State Sen. Jennifer Boysko, Del. David Reid, former VA Secretary of Education Atif Qarni, and several candidates I'm not familiar with –  Krystle Kaul, Brandon Garay, Mark Leighton and Michael Freedman. Also widely expected to run are: Del. Michelle Maldonado; former Del. Ibraheem Samirah, and presumably others as well. Stay tuned…
Del. Suhas Subramanyam Announces Campaign for Congress
Subramanyam takes on and wins big fights and delivers real results for Northern Virginia
Ashburn, VA – Today Delegate and Senator-elect Suhas Subramanyam announced his candidacy for Congress in Virginia's 10th District.
"Congresswoman Wexton has been a friend, mentor, and forceful advocate for Northern Virginia in Congress, using skills she honed serving in Richmond. During my own time in the legislature, I'm proud of what we've been able to accomplish on gun violence, the environment, and reproductive rights. I've taken on fights that some said were impossible – forcing pharmaceutical companies to be more transparent in their pricing, taking on private toll companies who tried to hike tolls on hardworking families, and forcing utility companies to refund more than $300 million to Virginians after years of overcharging. I work every day to tackle the issues that matter to Virginia families, no matter how difficult."
"But the Republican leadership in the House has been unapologetic about their MAGA agenda, undermining our democracy, trying to ban all abortion – no exceptions – nationwide, and slashing Social Security and Medicare. Their extremism and political games have done nothing to bring down costs or make things better for Northern Virginia families. The threat is real, and it's urgent. This community is where my family immigrated, my kids were born, and my wife and I got married, and it is absolutely vital that we elect someone in Virginia's 10th District who puts that community, not the MAGA agenda, first. I know I am the proven leader for the job."
The son of Indian immigrants, Suhas's family's story in America began in Virginia's 10th District when his mother immigrated to the United States through Dulles Airport. Suhas's parents raised him to value service to the community above all else. Whether as a Capitol Hill aide, advisor to the Obama White House, an elected official in Richmond, or as a volunteer EMT, Suhas has taken that lesson to heart throughout his life. Every step of the way, he has taken on the toughest fights to deliver real results for our community. Suhas resides in Ashburn, Virginia, with his wife, Miranda, and their two daughters.
About Suhas
Suhas's family's story in America began right here in Virginia in 1979, at Dulles Airport. His mother, a native of Bengaluru, India, immigrated to the United States to unite with his father, live her American dream, and pursue a career in medicine.
Suhas's parents taught him the value of service from a young age and, while attending Tulane University in New Orleans, Suhas took those lessons to heart when he helped organize volunteers to rebuild the communities affected by Hurricane Katrina.
Suhas has since worked tirelessly to improve the health and prosperity of all Virginians and Americans. He served on Capitol Hill as a policy aide, where he worked to expand and improve health care access to millions of Americans, helped build a bipartisan coalition in support of the DREAM Act, and drafted legislation to increase job opportunities and funding for veterans.
After earning his law degree with honors at Northwestern University, Suhas served as a White House technology policy advisor to President Obama. During his time in the Obama Administration, Suhas tackled some of the most challenging issues facing our nation, including addressing cybersecurity threats and modernizing government agencies so that they were better equipped to serve the needs of the American people.
After leaving the White House, Suhas started his own small business in Loudoun County and also served our community as a volunteer medic, EMT, and firefighter.
In 2019, Suhas won a competitive four-way primary for the Virginia General Assembly. He immediately got to work, fighting fiercely to secure common sense solutions for Northern Virginia families. When politicians on both sides of the aisle refused to take on Big Pharma, Suhas passed legislation to bring down drug costs and increase price transparency for consumers. When powerful private toll operators attempted to gouge Northern Virginia commuters, Suhas stood up to them and cracked down on egregious toll hikes. And when Virginia consumers were overcharged by hundreds of millions of dollars on energy bills, Suhas built a coalition across party lines to fight back, resulting in over $300 million in refunds to Virginia families. In Congress, Suhas will continue to take on the tough fights, standing strong against MAGA extremists, defending abortion rights, and working with anyone willing to put aside partisan political games and get things done for Northern Virginians.
Suhas is the first Indian-American, South Asian, and Hindu to be sworn into the Virginia General Assembly. He was sworn in on the Bhagavad Gita.
He is married to Miranda Peña Subramanyam, who works in international trade and volunteers in her free time at the Loudoun Abused Women's Shelter. They currently reside in Ashburn, Virginia with their 2 daughters.
For more information, visit www.suhasforvirginia.com. For a high-resolution picture of Suhas, click here.
********************************************************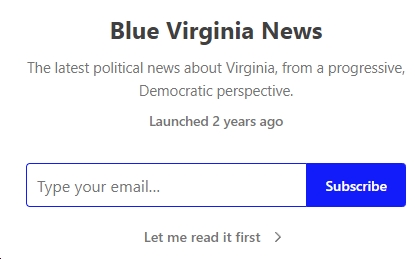 Sign up for the Blue Virginia weekly newsletter