From the Virginia Coalition for Progressive Values:
Virginia Coalition for Progressive Values Invests $15 Million & Knocks 1 Million Doors, Plays Critical Role in Flipping General Assembly 
Coalition's efforts help win both chambers of the legislature, protect abortion access
RICHMOND, VA – Today, the Virginia Coalition for Progressive Values, a group of organizations dedicated to building political power for Virginian communities of color, young people and other members of the New American Majority, released data showing the critical role they played in winning back control of the General Assembly.
The Coalition, which is made up of over 30 statewide organizations, helped elect progressive candidates across the Commonwealth dedicated to preserving abortion access, supporting a strong public education system, protecting the environment, building an economy that works for hardworking people, and pushing back against MAGA extremists and their disastrous, dangerous agenda.
"Virginians sent a very clear message on Tuesday," said the Coalition's Executive Director David Aldridge. "Voters are  sick and tired of Glenn Youngkin's pursuit of divisive, extremist culture wars and they want leaders who will deliver on the real issues that matter to them. That's why they elected a House and Senate that will stop his regressive agenda while helping  build a Commonwealth where everyone, regardless of our race, socio-economic or immigration status, gender, how we identify, or who we love, can thrive."
The Coalition was able to harness this strong enthusiasm for progressive change, inspiring volunteers and deploying canvassers in every corner of the state. High level data points include:
1 million doors knocked
400,000 phone calls made
Digital advertisements that resulted in over 88,000,000 impressions on Facebook, Instagram, Snapchat, YouTube and other platforms
Including direct contributions, paid digital advertisements, and other valuable tactics, the Coalition was able to strategically invest $15 million in multiple races, giving candidates they endorsed the resources they needed early on to give them a competitive edge, set the conversation for their races, and the opportunity to share their message and values with broader audiences.
Delegate-Elect Joshua Cole won his election last Tuesday in the 65th District, which helped flip the House of Delegates. Cole thanked the Coalition for their mobilization efforts that helped secure his victory.
"Last week, we defeated Republican extremism here in HD-65," Delegate Elect Cole said. "I am incredibly grateful for the indispensable work our partners did in our district to ensure we could protect the fundamental rights of all Virginians."
"The Virginia Coalition for Progressive values is just that: a coalition," Aldridge said. "And our unified efforts are about centering power in the hands of those who have historically been marginalized, silenced, and under-resourced. We invest in continuous, year round engagement with these communities to understand what motivates and moves them, and how we can work with them to improve the lives of all Virginians, making sure no one gets left behind. Together, we were able to turn out the communities we represent to elect progressives in the General Assembly, but our work has always gone beyond electoral victories. We believe in a larger vision; one that ties elections, policy, and advocacy together to drive systemic, societal changes that empower and uplift entire communities."
####
The Virginia Coalition for Progressive Values is a group of 501(c)(4) organizations that are either based in or who do year round work in Virginia, dedicated to building political power for Virginian communities of color, young people and other members of the New American Majority. Our members include over 30 diverse organizations, dedicated to different areas of progressive advocacy, including: New Virginia Majority, Progress Virginia, Freedom Virginia, the Virginia Education Association, the Virginia League of Conservation Voters, Planned Parenthood Advocates of Virginia, Service Employees International Union, UNITE Here!, Virginia AFL-CIO, NextGen America, CASA in Action, NAKASEC in Action, Equality Virginia, the Chesapeake Climate Action Network, CFFE PAC, REPRO Rising Virginia, The Virginia Chapter of the Sierra Club, Care in Action, the Working Families Party, We the People for Education, the Human Rights Campaign, Emily's List, the AAPI Victory Alliance, Virginia Interfaith Action, the Giffords Campaign to End Gun Violence, Climate Cabinet Action, EmGage, Black Male Voter Project, and Red, Wine and Blue.
********************************************************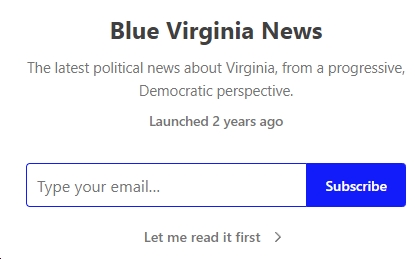 Sign up for the Blue Virginia weekly newsletter